MFLI Key Features
DC - 500 kHz / 5 MHz, 60 MSa/s, 16 bits
Current and differential voltage inputs
LabOne toolset including Scope, Sweeper, and Spectrum Analyzer
Plug & Play with embedded LabOne Web Server
USB 2.0 and 1 GbE high-speed connections
AC line and DC supply (battery) operation
Field-upgradeable options
MFLI Overview Video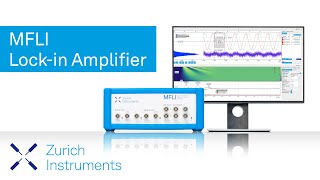 MFLI Applications
Optical chopper applications
Pulsed laser applications (e.g. high power lasers)
Materials research
Quantum- and nano-electronics
Scanning tunneling microscopy
Low temperature physics
Four-terminal sensing
Seismic measurements
MFLI Q & A
Are different hardware configurations available?

No, all available versions and options are firmware- and software-based and can be upgraded at any later time.
Do I need a PC to run the instrument?

The MFLI features an embedded web server, and it can thus be connected to a local network where it can be accessed from any web browser by typing in the address "http://mf-dev3XXX" (replacing 3XXX with the serial number).
How does the MFLI compare to the HF2LI and the UHFLI in terms of key features and specifications?

Please see this comparison chart.
What are the key features of the MFLI Scope tool?

The main features of the MFLI oscilloscope are:

Single channel, up to

16 kSa

per shot,

16-bit

resolution (

24-bit

with BW limit)
Sampling rates from

1.8 kSa/s

to

60 MSa/s

, up to

8.9 s

acquisition time
FFT of acquired scope shots with up to

30 MHz

span (limited by

10 MHz

input bandwidth (

-3 dB

))
6 signal sources including signal inputs and trigger inputs, up to 6 trigger sources and 2 trigger methods
Independent hold-off, hysteresis, pre-trigger and trigger level settings
Support for input scaling and arbitrary input units

See also the LabOne toolset and Scope pages.

What are the key features of the MFLI Spectrum Analyzer?

The main features of MFLI spectrum analyzer are:

Up to

58 kHz

span, noise floor at

2.5 nV/√Hz

, up to

8 kSa

Choice of 4 different FFT window functions
FFT input parameters: X+iY, R, Θ, f, (dΘ/dt)/(2π)

See also the LabOne Toolset and Spectrum Analyzer pages.

What are the key features of the MFLI Sweeper tool?

The main features of the MFLI Sweeper are:

Full-featured parametric sweep tool for signal output frequency, signal output amplitude, signal output offset, signal output phase, and offset voltage auxiliary output
Recording parameters: demodulator data (X, Y, R, Θ), oscillator frequency, auxiliary inputs, etc.
Application modes: Parameter sweep, noise amplitude measurement, frequency response analyzer, 3-omega-sweep
Logarithmic sweeps, automatic bandwidth adjustment, persistent display of previous scans, phase unwrap, etc.

See also the LabOne Toolset and Sweeper pages.

MFLI Available Options
MFLI Available Bundles
Multi-Device Synchronization (MDS)
With MDS it is possible to operate multiple MFLIs as a single multi-channel device:
Operate all instruments from a single LabOne user interface and LabOne API.
Lock in phase all instrument clocks and oscillators (stable phase relationship).
Synchronize time stamps and sampling rates for automatic alignment of measurement data.
MFLI Functional Diagram
Front panel interface
The front panel of the MFLI features 1 current signal input, 1 differential voltage input, 1 differential signal output, 2 auxiliary inputs that can work as reference inputs, and 4 auxiliary outputs. Both signal inputs and outputs can be operated in single-ended and differential mode for experiments that require extra noise immunity. The signal ground can be referenced to the instrument ground or to the BNC shield of the signal inputs.
Voltage and current measurements
Voltage measurements and current measurements are both supported by the MFLI, but the simultaneous measurement of current and voltage requires the MF-MD Multi-Demodulator option. The analog front end features variable input impedance as well as AC/DC coupling selection, and the high-frequency analog to digital sampling provides a large oversampling factor. This ensures superior lock-in performance and high signal fidelity for the Scope.
Output channels
东成西就ill必中⑧码The results of the lock-in measurement, i.e., X, Y, R, and Θ for each of the demodulators, can be used in the following ways:
Analog output to any of the 4 auxiliary outputs on the front panel. Individual scaling and offsets can be set for each signal, and the 612 kSa/s sampling rate ensures that all demodulated signal components are reliably available on the physical connectors. The signal bandwidth is the same for all signals and can be as high as 200 kHz.
Transfer to the host PC over USB 2.0 or 1 GbE for display on the LabOne user interface, where the measurement data can be analyzed with one of several LabOne tools or stored locally.
Store on a USB mass storage device plugged into either of the two USB connectors.
Back panel interface
东成西就ill必中⑧码The back panel offers additional BNC connectors comprising 2 trigger inputs, 2 trigger outputs, and 1 input and 1 output for 10 MHz clock synchronization. Moreover, a SCSI connector offers access to all DIO channels. The units can be operated with standard 90 - 240 V mains supply or by an external 12 V DC power supply (e.g., an external battery pack) to break up ground loops.
Basic Specifications
General
Storage temperature

+5°C

to

+65°C

Storage relative humidity

< 95%

, non-condensing
Operating temperature

+5°C

to

+40°C

Operating relative humidity

< 90%

, non-condensing
Specification temperature

+18°C

to

+28°C

Power consumption

< 40 W

DC power inlet

12 V

, 2 A
Connector: Switchcraft 760BK, ID 2.5 mm, OD 5.5 mm
Power supply AC line
100 -

240 V (±10%)

, 50/

60 Hz

Line power fuse

250 V

,

2 A

, fast, 5 x

20 mm

, F 2A L 250V
Dimensions including bumper
28.3 x 23.2 x

10.2 cm


11.1 x 9.1 x

4.0 inch


Rack mount on request
Weight including bumper

3.8 kg

Recommended calibration interval
2 years (see sticker on back panel)
Warranty
1 year, extensible
For the full list, please see: